Highway 411, Tennessee
Highway 411 used to be the main road South to Atlanta and beyond. Before the Interstate, this was the main road. There are a lot of old motels, diners and other great old pieces of architecture along the way.
Maryville, Tennessee
There is a Kay's Ice Cream here, but they no longer have the kid or the ice cream cone outside. And it's not called Kay's. But it has the diner bar and stools, etc.
This motel is just south of Maryville. Great neon and it actually has a Mountain View!
Another motel south of Maryville. You know where you are here.
We spotted this used car lot full of antiques in town
Etowah, Tennessee
Swanky grew up a few miles from Etowah. Etowah is on Highway 411. There is an old theater here built in 1907, that they are still using. There was a play there at the time. Several nice antique stores. One that specialized in very old cash registers. At least 3 drive-in restaurants. When Swanky was in High School, he would cruise the Drive-Ins here occasionally. They also have a restored train station there. It's interesting that train depot's have their own architecture.
This is the Tom Thumb Drive-In. It's off the main road, but still can be seen from it. Swanky had a real flashback seeing it. Old times. It's a little place, hence the name. But it's still open and doing business. Love that roof!
The Holiday Terrace looked to still be in business. The Etowah Motel on up the road (in the background) was not. The Etowah has that great 50's stone, and a better look, though it was run down. One thing I noticed here are the white "slats" in front of the rooms. I've never seen that before. I guess it gives you a little privacy if you open your door. Great font on the sign and great to see it in the right aqua color and good paint.
I would like to see this sign at night. I wonder if it's still in it's glory with that great spire to the heavens. And notice the red lantern in front.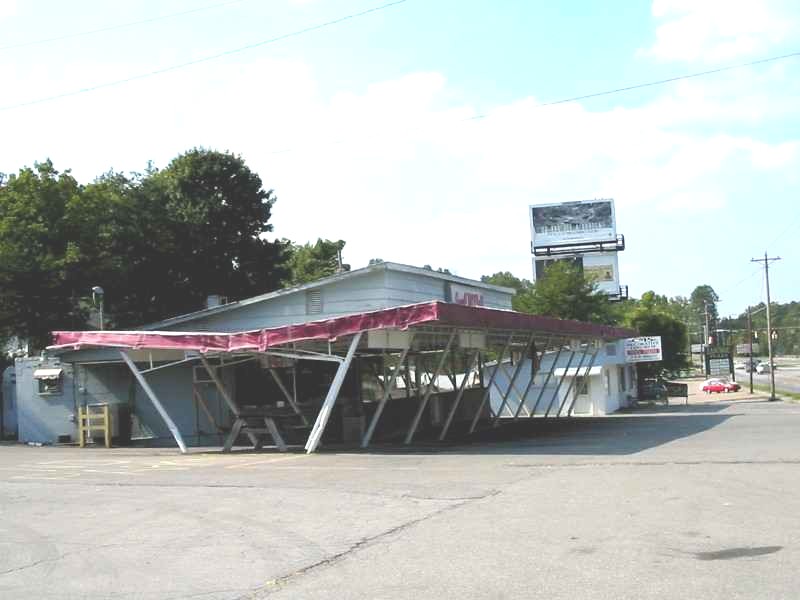 This isn't actually Etowah, but Athens, Tennessee, where Swanky grew up. This was Small's Drive-In. When Swank was a kid, this was the only place to get food. That was pre-fast food. Everyone cruised the drive-in, and the teens hung out there. That was in the early 70's. Later came Hardee's and other places. Small's is still open and doing business. We eat here on most trips to Athens.