Sponsored by the only damn wall calendar that matters!

Highway 11
11-70 Motor Court - 10613 Kingston Pike

It is looking a lot better since I last went by there a dozen years ago. A survivor, though I am pretty sure it is not open for business.
A couple of places along the way

The Court Cafe is on Highway 11-70 just before Dixie Lee Junction. I think it's still open.

The Zesto is in Athens, TN. Swanky grew up eating Ho-Hos and drinking Suicides from here.
Highways 11E & 11W, Knoxville to Bristol, Tennessee
Highways 11E and 11W are a bit odd. They both cross in Bristol and Knoxville, Tennessee. They both are North/South and are about the same quality. They seemed like a nice loop to take for the weekend. We started North on 11W from Knoxville, and stayed over night in Bristol and came back on 11E. Part of our reason for going to Bristol is their "Birthplace of Country Music" Museum. Tennessee Ernie Ford was born in Bristol and the Carter Family was from the area. The first recordings of Country Music were done there in Bristol. Also, the last place Hank Williams was known to be alive (by some stories) is here.
Skyway Drive-In - 11W
We spotted this long extinct Drive-in. It had been gone a long time. We could not see where the screen or event the parking area was. In fact, I am not sure that the drive off the highway was correct.
Pal's Restaurant - 11W
When we saw Pal's we thought it must be a leftover from the past, but it is not. This was the first af many Pal's we saw on our trip. They dot north-east Tennessee.
Parkway Plaza - 11W
We spotted this place off the main Highway. Notice the awning on the building.
Grand Guitar - 11W
Whatever this building is, it's in Bristol.
Bristol Auto Auction - 11W
Just an interesting piece of signage.
Cameo Theater - 11W
This theater is in downtown Bristol. We're not sure if it's still used, but they did have the sign lit up at night.
Uncle Sam's Loan Office - 11W
A sign in downtown Bristol.
Paramount Theater - 11W
The Paramount is in great shape and still used on occasion. It has some historical significance as it was stage to some of the earliest country music shows.
Downtown Bristol - 11W
Downtown Bristol signs.
Kay's Ice Cream - 11W
One of 3 or 4 we saw on this trip.
Downtown Building - Bristol
The Paramount is in great shape and still used on occasion. It has some historical significance as it was stage to some of the earliest country music shows.
Burger Bar - Downtown Bristol
Besides being a great diner, this is an historical landmark. On New Years 1952, the car carrying Hank Williams stopped here as the driver tried to find someone to help him make the trip further north. Some accounts say there was another person in the Cadillac here and that Hank was actually killed here. That you must decide for yourself.
Bristol Tennessee / Virginia
Downtown Bristol is half in Tennessee and half in Virginia. This sign shows the split.
Keezel's Shop - 11E
Capri Motel - 11E
11E Motel - 11E
This is a cute little vintage motel. It's sign was new and ugly though.
Elementary School - 11E
Every wanted to go to school in a UFO?.
Downtown Morristown - 11E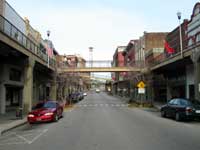 This was a very odd site. Our first thought was that these elevated walkways had to do with flooding. We asked at one of the antique stores downtown and found that in 1965 they put these in to make more shopping space to try to compete with the malls. It failed, but it was a great idea.
Western Willow Plaza - 11E
Cherokee Plaza Motel - 11E
Helma's Restaurant - Strawberry Plains - 11E

Postcard of Helma's and Helma? from way back.


This place is only 15 minutes from home, so we will be going back soon. On Sundays they have a live piano player in the restaurant. I have become hooked on the food for some reason.
UPDATE: Helma's is now Grizzly's and sucks. The sign is ruined.
For more about the Country Music History of Bristol go to:
Birthplace of Country Music Museum Site