Cave City, Kentucky
My daughter and I went on a road trip and our first stop was a long time dream: Wigwam Village.
This is an evening view.
The sign has been renovated since the Roadside America site was here.
The site of this place just draws gasps. It is amazing. You can't believe your eyes. The rooms are really vintage. The furniture is original. I even checked under the toilet lid to see September 11, 1935 stamped in it! It was an amazing experience.
I must say that as a hotel it does lack. The radiator heat is out and the box heater was loud. The road noise is loud near the road as the occasional car passes. The beds are smallish and have spring mattresses. So, you cannot hold it to modern standards. But the rate was cheap and the owner very nice. Just understand that those who don't sleep easily, may have trouble.
But my god this place is awesome! When you are headed on the road to Mammoth Cave from the Cave City area, it will be a right turn down 31.
That's also the road the Holiday Motel is on. Pictures do not do this neon justice. The aqua on this sign is perfect, although only half of it works. Too bad it's 1/4 mile from the Wigwam, or you might stay.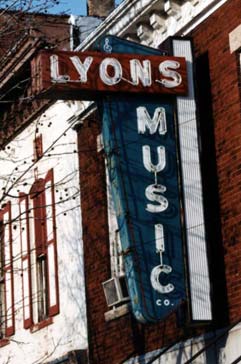 A sign in a town near Cave City.
When you see this sign, you are at the turn for the Wigwam Village.
This odd site is just up from Mammoth Cave and I assume they make these things for putt-putt golf and other such attractions.